We're Queering ADHD Coaching
Are you looking for queer-centered coaching,
education, and community support for your ADHD?
Welcome! You're in the right place! 
Queer ADHD is an ADHD coaching practice and resource center for the LGBTQIA+ adult community founded by Sarah Dopp. We offer memberships for group coaching, as well as for educational and supportive community gatherings. Our goal is to address the growing need for ADHD support in the queer, nonbinary, lesbian, gay, bisexual, transgender, intersex, and asexual communities—along with the rest of our alphabet identities. 
Get the Queer ADHD Newsletter
Be the first to hear out about our educational content, community offerings, and coaching services. We promise to respect your inbox.
We're excited to offer the following types of membership at Queer ADHD: 
Community Membership
Get unlimited access to Community Sessions, our weekly gathering for connection, education, and support. (And more community resources are coming soon!)
Coaching+ Membership
Get everything in the Community Membership, plus join a small group (up to 6 people) that meets weekly for professional ADHD coaching. 
Looking for individual coaching? 
Queer ADHD does not offer individual coaching, but we are proud to support the ADHD coaches who are emerging in our queer community. Check out our Find a Coach page to find a coach that's right for you!  
Upcoming Community Sessions
Queer ADHD Community Sessions are weekly gatherings over Zoom. They're designed to help support our ADHD brains through learning, sharing, and connection in a queer community space. The sessions are warm, supportive, practical, and full of beautiful queer folks.
December 1

Identifying and Dismantling Internalized Oppression
As queer ADHDers, we're living in a world not designed for and even actively opposed to us. Expectations and criticisms from the outside are near-constant, and that's tough enough to navigate! But what happens when the most insidious messages are calling from inside the house? The voices we vehemently disagree with on a conscious level find ways to ooze their way in, subtly possessing our inner voice and controlling our movements by almost-invisible strings. Get ready to break out the scissors, turn on the lights, and shun the shaming puppeteer – good riddance!
Speaker: Noor Wise
Host: Dylan Marie Alter
December 8
Community Check-In
Unstructured and open space is important for ADHD brains! It's where we get to rest, play, and process. We're holding a space for you to bring whatever is up for you to talk about, share your queer ADHD experience, get and offer support, and build community.
Hosts: Dylan Marie Alter, Noor Wise
December 15
Get It Done!
What annoying thing in your physical environment are you avoiding? Is there a pile of clutter in the corner you keep walking past? Is there a dead car battery in your office, or a random piece of plywood in your bedroom? Perhaps there are coffee cups that have gone feral and are refusing to rejoin society. Join us as we help the rubber meet the road, unhook the caboose, and use some of the strategies we've learned at Queer ADHD to overcome those little things we've been avoiding for months so we can stop feeling guilty about them.
Speaker: Dylan Marie Alter
Host: Noor Wise
December 22
Communicating On Your Own Terms
Ever had one of those conversations that didn't go badly but you felt angry, uncomfortable, or violated afterwards? Have you ever answered an intrusive question and later thought, "Actually, none of your business"? Let's talk about defining and holding our communication boundaries.
Speaker: Lou Rogers
Host: Noor Wise
December 29
Yours, Mine and…Don't Touch That
What is it like when one or more people in a household has ADHD? Probably not boring, but also maybe a lot. This week we will learn some strategies for accommodating conflicting needs (including sensory needs), communication, boundaries, and not impulsively spending the rent money.
Speaker: Lou Rogers
Host: Dylan Marie Alter
Price
Drop In Rate: USD $25 per session*
Members have unlimited access! (Just use your personal code to register.)
* If this price is too high for you to be able to join us, please contact us to discuss a price that would work for you.
Session Times
Community Sessions take place at two different times (for time zone accessibility) each week.
Every Wednesday at 10-11:30am Pacific // 1-2:30pm Eastern // 6-7:30pm London

Every Wednesday at 5-6:30pm Pacific // 8-9:30pm Eastern // 10-11:30am (Thurs) Sydney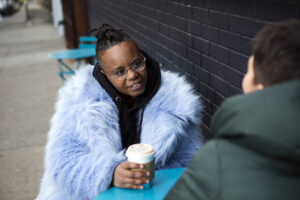 I hear you're a queer person who just discovered you have ADHD. Welcome! I'm excited to officially welcome you to this rather specific—and specifically wonderful—club.
Read More »