We're Queering ADHD Coaching
Are you looking for queer-centered coaching,
education, and community support for your ADHD?
Welcome! You're in the right place! 
Queer ADHD is an ADHD coaching practice and resource center for the LGBTQIA+ adult community founded by Sarah Dopp. We offer memberships for group coaching, as well as for educational and supportive community gatherings. Our goal is to address the growing need for ADHD support in the queer, nonbinary, lesbian, gay, bisexual, transgender, intersex, and asexual communities—along with the rest of our alphabet identities. 
Get the Queer ADHD Newsletter
Be the first to hear out about our educational content, community offerings, and coaching services. We promise to respect your inbox.
Community Membership
Get unlimited access to Community Sessions, our weekly gathering for connection, education, and support. (And more community resources are coming soon!)
Coaching+ Membership
Get everything in the Community Membership, plus join a small group (up to 6 people) that meets weekly for professional ADHD coaching. 
Special Offer: Help Launch our Community Site
We're building a members-only community site, and we need your help to bring it to life! Join us before we launch the site, and we'll take 75% off your first month of Community Membership fees. 
No coupon needed. See Sarah's video for more details. Offer valid only for Community Membership. Site launch is expected Jan/Feb 2022. Once it goes live, this special offer will disappear. Watch our newsletter for updates!
Looking for individual coaching? 
Queer ADHD does not offer individual coaching, but we are proud to support the ADHD coaches who are emerging in our queer community. Check out our Find a Coach page to find a coach that's right for you!  
Upcoming Community Sessions
Queer ADHD Community Sessions are weekly gatherings over Zoom. They're designed to help support our ADHD brains through learning, sharing, and connection in a queer community space. The sessions are warm, supportive, practical, and full of beautiful queer folks. 
January 19 – SPECIAL GUEST
ADHD, Sex, and Relationships
While most of us have learned about how ADHD affects other areas of our lives, many of us are left in the dark about how it impacts our sex lives and relationships. A lot of therapists shy away from even discussing how they intersect, and frankly, there is not a wealth of clinical research either, so clients are left wondering why things like "why is it hard to have sex when the air conditioning is making that sound?" or "why do people get upset when all I did was text them non-stop for a day and then forget their existence?" In this chat, we will discuss how ADHD can potentially impact how we interact with others in sexual, romantic, and platonic relationships, as well as how we interact with our own sexual desire.
Special Guest Speaker: Pam Shaffer, LMFT
Host: Dylan Marie Alter
About Pam Shaffer
Pam Shaffer is a licensed MFT in Los Angeles who runs the group practice Best Self Psych, where she and her clinicians specialize in seeing members of the ENM, kink, and neurodiverse communities. As a musician, podcast host of "Why Not Both?", clinician, and recovered manic pixie dream girl, Pam brings a creative and multi-faceted collaborative approach to all that she does. Recently, Pam launched Galaxy Brains, an online learning portal, resource center, and Discord server for those of us with a little extra brain spice. She found that the best way to help people with neurodiversity was to bring them together with other people who were neurodiverse so everyone could support one another. She deeply values creativity, novelty, and community and brings these aspects into all of the spheres in which she travels.
January 26
Boundaries Workshop: Personal Policies for Socializing
Do you love hanging out with friends but always feel worn out the next day? Do you get tired of being the driver or the host? Bring a pen and paper or your bullet journal and leave with 3 personal policies you can use to set boundaries around socializing with friends and family.
Speaker: Lou Rogers
Host: Dylan Marie Alter
February 2
Riding the Tide: Flooding, Relationships, & ADHD
We've all been there. We're in the middle of a conversation when someone says something that hits us—hard. Suddenly our bodies and brains are in a state of overwhelm and we lose access to the logical, decision-making, problem-solving sides. The deepest, darkest parts of our emotional core take control of us and read the worst about the situation or our loved one. Later, when we come back into ourselves, we're left with regret and shame. While this response system can protect us in times of need, it is common for our ADHD brains to experience flooding when we're not in danger and we end up hurting ourselves and our relationships. Join us to learn more about flooding, explore how to manage it, and enhance your health and relationships!
Speaker: Noor Wise
Host: Dylan Marie Alter
February 9
Community Check-In
Unstructured and open space is important for ADHD brains! It's where we get to rest, play, and process. We're holding a space for you to bring whatever is up for you to talk about, share your queer ADHD experience, get and offer support, and build community.
Hosts: Dylan Marie Alter, Noor Wise
February 16
Rest and ADHD: Hitting the Refresh Button
Rest? I haven't done all the things yet, why would I rest? Rest can be a loaded concept for those of us with ADHD. Maybe we don't feel deserving (ouch!), maybe it seems boring, or maybe we rest and still feel tired. Let's see if we can throw out what we've been taught about how and when we're supposed to rest, and learn how to hit the refresh button.
Speaker: Lou Rogers
Host: Dylan Marie Alter
February 23
FrameStorm: Cognitive Reframing for Creative & Effective Solutions
When we're stuck, it's tempting to think, "Maybe if I just try harder…" But often the key is making the task easier; why keep trying to go through a brick wall when we can go over or around it? Cognitive reframing is a powerful tool that can be used to transform seemingly insurmountable problems into opportunities, and frustrations into play. FrameStorm is a reframing workshop and brainstorm space to practice reframing, discuss why queer people with ADHD have some unique reframing skillsets, and learn how to avoid harmful pitfalls like bypassing or gaslighting. We'll bring some cognitive reframing tools, you bring your amazing queer ADHD self, and let's unleash a whirlwind of creativity to find new solutions to our most perplexing ADHD life puzzles.
Speaker: Dylan Marie Alter
Host: Noor Wise
Price
Drop In Rate: USD $25 per session*
Members have unlimited access! (Just use your personal code to register.)
* If this price is too high for you to be able to join us, please contact us to discuss a price that would work for you.
Session Times
Community Sessions take place at two different times (for time zone accessibility) each week.
Every Wednesday at 10-11:30am Pacific // 1-2:30pm Eastern // 6-7:30pm London

Every Wednesday at 5-6:30pm Pacific // 8-9:30pm Eastern // 10-11:30am (Thurs) Sydney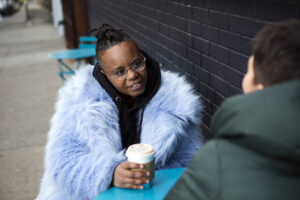 I hear you're a queer person who just discovered you have ADHD. Welcome! I'm excited to officially welcome you to this rather specific—and specifically wonderful—club.
Read More »