Queer ADHD is Closing its Doors
A message from Queer ADHD founder, Sarah Dopp:
It is with a very heavy heart that I need to announce that Queer ADHD will be closing down.
Our final day will be August 5th, and we will refund members for any remaining membership time. We will also have a "goodbye" Community Session on August 3, and we hope you will join to connect and share in the mixed feelings — the sadness, the loss, the gratitude, and the celebrations. It has been a great privilege and gift for us to be able to support this amazing community for a full year and a half, and we want to honor the work we've done together. We really hope to see you there.
There is also a silver lining: our coaches are already collaborating on new projects to support our community (more details below!). We have a lot of hope and optimism about what's ahead.
But first, I'd like to share a bit about what happened…
Queer ADHD was my dream business, and I designed it exactly the way I wanted. Or at least, I tried to. The truth is that I ran out of steam before many aspects were fully developed. I've been struggling with burnout-related health issues for the last 6 months, and it has severely impacted my ability to work.
This is hard to admit, but I want to be honest about it because it's a familiar experience to many of us: I misunderstood my own needs and limits, and I overcommitted. And it did me a great deal of harm.
To be fair, I absolutely love coaching and creating content. That's the work that lights me up and feels like my most authentic contribution to the world. The trouble was that I didn't put that work first. I took a major detour into building a foundation that could support a lot more people, believing I would get back to the work I loved "later." The extra responsibilities I took on became much larger and more pressing than I intended, and I went way beyond my own limits.
And then came the plot twist: I discovered that in addition to my ADHD, I am also autistic. This brought many of my needs and limitations into sharp focus, and helped me see how much I have been misunderstanding them.
And although the research is still being sorted out, there is mounting evidence that autism is both wildly common in the queer community and frequently overlaps with ADHD. The combination becomes so intertwined that they are difficult to talk about separately, and other co-existing conditions can make this even trickier. It now looks like our ADHD focus was too specific, and taking a holistic approach to neurodiversity would have been much more helpful. (Special shout-out to our coach, Noor Wise, for helping me understand what I was missing here. I am forever grateful for this perspective shift.)
Here's the other tricky part. While Queer ADHD is a community-focused project, it was also designed to be my own business—my personal labor of love, and an extension of myself into the world. My styles, perspectives, preferences, and biases are baked into its fabric, everywhere. We've spent the last few months trying to find a different solution, a practical pivot, a key shift that would address our needs… but it all boils down to the same answer: we need to let it go. Queer ADHD is just not built on the right foundation.
Our team has done an extraordinary job of delivering on our programs, and I am forever grateful to how they have stepped up with creativity, compassion, and commitment. And you, our community and members, have contributed, connected, witnessed, and shared openly in brilliant and inspiring ways. It is an honor to all of us to have been a part of that.
And it's time to make space for what's next.
So… what's next?
GREAT question. This is the exciting part. A bunch of coaches are getting together to collaborate on a new approach to supporting our community. Some parts will look familiar, and some are completely reimagined—including the price, which is way lower. But it won't be real until we show up and breathe life into it, so you know what to do. For all the details, head on over to NeuroQueer.org. There you'll find a welcome letter from Dylan Alter, who you already know and love.

As for me, I'll be taking a solid period of rest and recovery. As I start to feel better, you may see me on social media under my own name (try @sarahdoppify on Instagram and TikTok). And as soon as I can do so reliably, I hope to offer coaching again as an independent provider. I'll share those opportunities on NeuroQueer.org.
Thank you thank you thank you for what we've created together, for your commitment and support and connection and openness, and for joining in on this wild ride. I couldn't have asked for a more wonderful group of people to explore this with. I can't wait to see what we all do next.
Yours,
Sarah
July 28, 2022
Queer ADHD Community Sessions are weekly gatherings over Zoom. They're designed to help support our ADHD brains through learning, sharing, and connection in a queer community space. The sessions are warm, supportive, practical, and full of beautiful queer folks. 
August 3
Final Community Sessions (free)
On August 3rd we will have a final Community Session. It'll be an open forum where we can enjoy each other's company, share the best things we've learned together, and bid each other a fond farewell. It's ok if you can't make it, but we don't want you to regret not going.
Wednesday at 10-11:30am Pacific // 1-2:30pm Eastern // 6-7:30pm London

Wednesday at 5-6:30pm Pacific // 8-9:30pm Eastern // 10-11:30am (Thurs) Sydney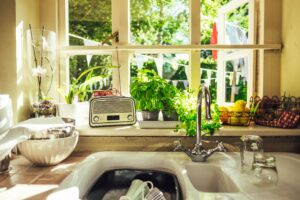 Routines? I hated them…until I was diagnosed with ADHD. Rather than a test to fail, they were gardening tools and houseplants, pruning the stress and anxiety from my day-to-day and creating an environment to thrive.
Read More »